Outpatient Alcohol Rehab Center, Since 1993
With all the attention to what is coming to be seen as a drug epidemic in this country, it is easy to lose sight of an even greater problem with a legal drug we take for granted. That drug is alcohol. Each year, alcohol causes nearly double the deaths of drug overdoses.
Excessive drinking led to approximately 88,000 deaths and 2.5 million years of potential life lost each year in the United States from 2006 – 2010, shortening the lives of those who died by an average of 30 years.
Excessive drinking was responsible for 1 in 10 deaths among working-age adults aged 20-64 years. The economic costs of excessive alcohol consumption in 2010 were estimated at $249 billion, or $2.05 a drink.
CDC Fact Sheets – Alcohol Use and Your Health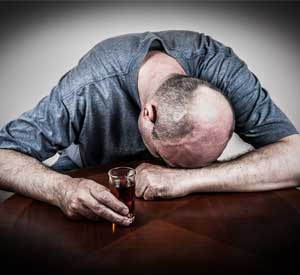 While many illicit drugs grab the headlines, alcohol continues to be our nation's primary drug of choice and source of many problems. It is an interesting drug because for roughly 85-90 percent of the population it does not seem to cause problems. And it is safe to assume that 100% of the people who drink alcohol do not intend for it to cause problems for them. Yet perhaps as many as 40-45 million Americans suffer from alcohol problems.
One of the most common means of identifying an alcohol problem is by identifying other kinds of problems that seemed to be related to one's drinking. Things like school or job problems, legal problems, financial problems, health problems, emotional problems, and family problems can all be indicators of an alcohol problem if they are related to drinking. These are often the symptoms we recognize to begin to diagnose alcoholism. Of course, some drinkers are able to drink without experiencing obvious external problems. Other commonly accepted symptoms include craving, loss of control, tolerance and withdrawal symptoms.
There is a simple way to self-diagnose if you have ever questioned whether your drinking or that of a loved one is getting to be a problem. Answer the following four questions honestly.
Have you ever felt you should cut down on your drinking?
Have people annoyed you by criticizing your drinking?
Have you ever felt bad or guilty about your drinking?
Have you ever had a drink first thing in the morning to steady your nerves or to get rid of a hangover?
One "yes" answer suggests a possible alcohol problem. More than one "yes" answer means it is highly likely that a problem exists.
If you have discovered that you may have an alcohol problem, does this mean that you are an alcoholic? Not necessarily. Many people may experience drinking problems at difficult, perhaps stressful times in their lives. What separates the alcoholic from the problem drinker is that the alcoholic will continue to drink despite the problems that drinking is causing, often unable to recognize that life's problems are not driving him to drink, but that his or her drinking is causing life's problems.
Remember that no one begins drinking with the intention of experiencing problems. And no one simply crosses an imaginary line one day and goes from a normal social drinker to an alcoholic. It is important to recognize that alcoholism is a progressive illness with identifiable stages. The progression is often subtle. In Alcoholics Anonymous, the illness is referred to as being "cunning, baffling and powerful."
So just what is Alcohol Rehab?
There are four essential tasks of any good outpatient alcohol rehab (treatment) program:
Treatment should help reduce the stigma of alcoholism/addiction and offer hope of lasting recovery. This is best done through an education process that helps participants understand and accept the concept of alcoholism/addiction as a chronic illness, not so different from other chronic illnesses like diabetes or hypertension. This helps reduce the shame and self-loathing that most people feel as they reach that point of becoming willing to seek help.
Because alcoholism/addiction brings with it concurrent physical health, mental health, and social issues whose resolution is critical to recovery, treatment requires the integration and coordination of multiple services. This requires knowledge of community resources.
Long term recovery depends, in most cases, on involvement with and support from non-medical, non-professional community resources. Whether this support is through 12-Step groups, religious groups, or secular support groups – the key is acceptance of the fact that very few people recover from alcoholism/addiction on their own. A good treatment program must introduce patients to some kind of ongoing support system.
Long term recovery depends on a psychic change – the development of acceptance, surrender, forgiveness, serenity – these are experiences of a spiritual nature. A treatment program has a responsibility, to address the importance of this kind of character change as essential to sustaining recovery and preventing relapse.
Many people make the mistake as simply viewing the "problem" as excessive drinking and the "solution" as either controlled drinking or stopping drinking. By the time you are considering rehab, experiments with controlled drinking have probably already failed. While stopping drinking is key to the recovery process, the disease of alcoholism is much more complicated than that. A good rehab program will help you understand that drinking has become your solution, your way of coping with life, and that the real problem is your lack of other coping skills.
Let us answer your questions.  Call us now.  Ventura: (805) 650-3094

Whether or not there is such a thing as the "Alcoholic Personality," is subject to debate. What cannot be overlooked, however, are the common behavior characteristics of those suffering from alcoholism/addiction. These common traits are the source of mutual identification in 12-Step meetings and also help to define the disease beyond simply the abuse of alcohol or other drugs. It is these characteristics that suggest that recovery is more than simple abstinence. Most of those with a substance use disorder will identify many of these in themselves:
We have feelings of low self-esteem that cause us to judge ourselves and others harshly.
We cover up or compensate by trying to be perfect, then see ourselves as failures when we come up short. We get angry when things don't go our way. We avoid confronting issues directly.
We tend to isolate ourselves and to feel uneasy around other people, especially authority figures.
We are approval seekers and will do anything to make people like us. We are extremely loyal even in the face of evidence that suggests loyalty is undeserved.
We are intimidated by angry people and personal criticism. We tend to over-personalize most situations.
We habitually choose to have relationships with emotionally unavailable people with addictive personalities. We are usually less attracted to healthy, caring people.
We live life as victims and are attracted to other victims in our love and friendship relationships. We confuse love with pity and tend to "love" people we can pity and rescue.
We are either overly responsible or very irresponsible. We try to solve others' problems or expect others to be responsible for us. This enables us to avoid looking closely at our own behavior.
We feel guilty when we stand up for ourselves or act assertively. Taking care of ourselves feels selfish.
We deny, minimize, or repress our feelings from often traumatic childhoods.
We are dependent personalities who are terrified of rejection or abandonment. We tend to stay in jobs or relationships that are harmful to us because of our fear.
Denial, isolation, control, and misplaced guilt are symptoms of family dysfunction. Because of these behaviors, we feel hopeless and helpless.
We have difficulty with intimate relationships. We feel insecure and lack trust in others.
We don't have clearly defined boundaries and become enmeshed with our partner's needs and emotions.
We have difficulty following projects through from beginning to end.
We have a strong need to be in control. We overreact to change over which we have no control.
We tend to be impulsive. We take action before considering alternative behaviors or possible consequences.
You probably will not identify all of these characteristics in yourself, but chances are that you will recognize many of them as aspects of your personality. The job of a good rehab, then, is to help you begin to address these issues in a climate of sobriety.
There are many levels of care that are often referred to as "rehab." Each is distinct, with separate goals. Each is part of a continuum of treatment. You may or may not require help at each of these levels of care:
Medical Detoxification
The abuse of many substances creates a physical dependence that requires medical attention to safely withdraw from the drugs. This is most often done in a hospital setting under a doctor's care and with 24-hour nursing care. It can sometimes be done in what is called a "social model" setting or on an outpatient basis under a doctor's supervision of prescribed medication. The substances that most often require medical detoxification are alcohol, benzodiazepines, and opiate pain medications, including heroin. Alcohol withdrawal can be life-threatening.
Residential Treatment
Residential treatment is a "live-in" option that is what most people probably think of when they consider "rehab." Residential treatment generally is from 30 to 90 days. It offers a safe environment, away from everyday stressors, where one can focus solely on their recovery, get emotionally and physically stabilized, and be introduced to basic recovery concepts. Residential treatment varies greatly in terms of amenities and therapies offered, from "bare bones" to quite luxurious.
Outpatient Treatment
Outpatient treatment is designed for those who are somewhat more stabilized and have the ability to stay sober between sessions. It is a level of care designed for people who cannot take time away from work or family to go to residential treatment. It is also used as a step-down from residential programs. Outpatient treatment is typically three to four 3-hour sessions weekly (Intensive Outpatient), but may also be five 6-hour sessions weekly (Partial Hospitalization). The benefits of outpatient treatment are extended length of stay and the practical application of recovery tools in a real life environment.
Continuing Care
Sometimes called Aftercare, Continuing Care is a less structured environment designed to sustain recovery by continued involvement in either a group setting or individual therapy. The focus is on issues in early recovery and relapse prevention. This is often part of either a residential or outpatient program, or may also include individual therapy and community support groups like AA or NA.
An ideal treatment episode might include medical detoxification (if necessary) followed by residential treatment and a transition to outpatient treatment. The National Institute on Drug Abuse (NIDA) recommends a minimum of 90 days of treatment. Recent studies indicate that it often takes from one to one and a half years for the brain to heal, which coincides with old AA wisdom that recommends no major decisions in the first year of sobriety. The good news is that treatment works, and that addiction is probably the most treatable illness there is.
Call Now for a Free Assessment:  (805) 650-3094
Call now for your free assessment!
Genesis Programs, Inc. is CARF accredited and certified through the Department of Healthcare Services (DHCS) as outpatient providers for substance Use Disorder rehabilitation treatment services. Certification #560032DP Exp. 11/30/2023