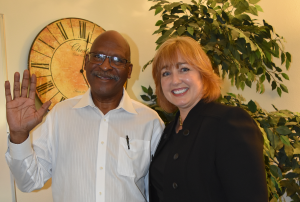 On Friday April 27th, Genesis Programs Thousand Oaks hosted another amazing workshop for professionals in the surrounding Los Angeles and Ventura County areas.
The workshop began with an introduction by Athena Naranjo, Genesis Programs Clinical Director, who presented some details on new legislations that Congress is looking to pass in the upcoming months. Athena shared that her trip to Washington DC in support of the Addiction Policy Forum (APF) Family Days movement was an "experience that will last for a lifetime." She thanked Julia Brownly, California's 26th Congressional Representative and Kamala Harris, United States Senator of California for taking the time to meet and discuss the importance of supporting the Comprehensive Addiction and Recovery Act (CARA), Opioid Crisis Response Act (OCRA), and the POWER Act. Athena plans to post more updates as information becomes available.
The quarterly workshop was sponsored by Van Sober Living, located in Simi Valley. Cornelius Van, the CEO of Van Sober Living, provided attendees with important information regarding the benefits of sober living, emphasizing the need for a conducive environment to prevent relapse, promote self-efficacy, and encourage lifestyle changes to support ongoing recovery. For details regarding Van Sober Living you can contact Cornelius directly at (805) 760-8231, or you can visit the Sober Living Network if you would like more information on other sober livings in your area.
This quarter's workshop was presented by Audrey Newmount, certified clinical Hypnotherapist, Spiritual Practitioner, Life Coach, and co-founder of the Newmount Center for Balanced Living located in the beautiful city of Agoura Hills. Be sure to look for Audrey's upcoming book Transformation, The Empowerment Game, where she has taken the science about the mind and body, and made it into a life process in the form of a game. Specifically, the game of your life. There are new rules, innovative tools, and clever cheats to win at being happy, healthy, abundant, and joyful. Audrey is hoping for the book to be published sometime this summer. You can find more information at AudreyNewmont.com. You can also stay connect with Audrey Newmont through Facebook, Twitter, Instagram, or email her at Anewmonte@gmail.com.
Audrey's workshop, "Forgiveness: Set Yourself Free," provided insight into ways professionals can help their clients learn the value of using compassion to release judgment, how to initiate the process of letting go to move from victim to victorious, how to support clients as they explore their own power to choose, help clients enhance communication skills to build meaningful relationships, and utilize simple new tools to help clients remove the blocks to gain access to their best life.
We asked Audrey to share her thoughts on forgiveness and the role it plays in the healing/recovery process.
When you think about the quote by Lewis B. Smedes, 'To forgive is to set a prisoner free, and discover that the prisoner is you,' it basically answers that question. I believe that many of us have been taught to think that when we don't forgive someone, that it is powerful for us. People say they will never forgive someone, as if it will forever hurt the other person. In reality, it deeply hurts those of us who choose not to forgive and let go of past trauma. We also hold onto the idea that forgiving is an extremely difficult and emotional experience to go through. I don't believe it has to be such a challenge, and in the process that I've put together, it's more compassionate and graceful. When we hold onto the anger, hurt, and resentment that is caused by not forgiving… letting go, we make it uncomfortable to be with ourselves. In that discomfort we look for something to soothe the beast inside. Alcohol and other drugs may ease the pain for a little while, but it never goes away. Forgiving, on the other hand, does create more comfort with life in so many ways. I've witnessed people in my 'Forgive and Let Go' workshop who have experienced powerful physical reactions. Saying things like, 'I feel like bricks have been lifted off my chest,' and 'My shoulders are lighter, and I feel freer!'
Audrey questions whether healing can even be done without doing some forgiveness work. She doesn't believe we can be the fullness of who we are when we are harboring resentment in our heart.
She clarified that forgiveness relieves the hurt; it doesn't erase the past, nor does it imply that what happened was okay. When people forgive, what they're saying is that we "let it go" because we love ourselves enough to let go of the past and live our greatest life. We forgive the unconscious, flawed thinking of the person/persons who wronged us. We take the time to recognize their ignorance in regard to their thoughts and actions associated with the circumstances. Forgiveness also allows us to learn from our experience, to grow from it and gain the wisdom needed to create healthy boundaries, so that we can avoid having ever to experience the same circumstances again.
Your heart is creating the experience of this life that you are having: it sends out a vibration of fear or love when we are feeling emotions. Anger, hurt, and resentment are on the fear side, and that energy 'talks' to the trillions of cells that make up you. On the side of love, the base is being calm. When you can choose to be calm, that message to the body is completely different from anger. Your heart also sends out a vibration to the Universe, the creative energy that is outside of your body. Just like we take in the messages and send them out of our phones, we do the same thing with the energy and intention that we send out to our heart and mind. So, the trick with much of life is to be continually choosing to be feeling authentically calm as much of the time as possible. Because, let's just say… calm and fear don't reside in the heart at the same time. It can change second by second, but you can't be anxious and calm, hurt and happy, or angry and loving at the same time. When you don't forgive others or yourself, it's like you have a continual subconscious negative pull. It's quite hard to be fully in love with yourself or someone else when you don't forgive. In the scheme of all things, when it comes down to it, love is that thing that makes people want to be present in life and not in a drug/alcohol-induced coma.
A question asked in the workshop was, "When should the forgiveness process start with a client?"
I'm pretty sure the word 'forgiveness' comes up in the very first session for most of my clients. Next to mindfulness, forgiveness is one of the main keys of life. I've found over the years that some of the biggest issues that my clients face have their foundation in a lack of forgiveness, a lack of constructive/effective communication, being the victim, and subconscious negative thinking. When they use the tools that I offer, they can take these things and move from victim to victorious, and from unhappy unconscious consequences to more fulfilled conscious intentional life.
The workshop included further group discussion and other professionals were given an opportunity to reflect on their own process of self-forgiveness. Audrey provided a packet with further information and a handout for professionals to use when working on forgiveness with their clients. It was a wonderful workshop that many enjoyed and found very useful.
If you are missed out on this workshop, please join us at Ventura location on June 16th as Manny Rodrigues and Ian Jensen of La Fuente Hollywood Treatment Center discuss"The LGBT Journey From: Political Movement To Treatment Model & Education For The Future." For details or more information on this workshop and future events please visit our website at http://www.genesisprograms.com.
We'd like to thank Audrey Newmont and Van Sober Living again for taking their time and money to help support and educate others in our profession. If you are interested in presenting or sponsoring one of Genesis Programs' quarterly workshops, you can contact Angel Jones, Genesis Programs Event Liaison at a.jones@genesisprograms.com.
Call Now for a Free Assessment:  (805) 650-3094
Call now for your free assessment!
Genesis Programs, Inc. is CARF accredited and licensed through the Department of Healthcare Services (DHCS) as outpatient providers for substance Use Disorder rehabilitation treatment services.